So for Mother's Day this year
all I asked for was a day to be free to shoot my kids.
With my lens that is....
don't go getting any crazy ideas!
I wanted a day free of "Aw C'mon mom's",
pouting, screaming, fighting, glaring at the camera,
refusing to stand still and so forth.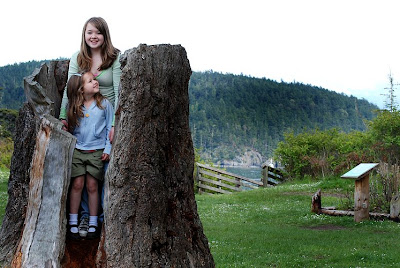 What I got was a day full of family bonding
in the beautiful setting of
Deception Pass State Park.


I did get some great shots out of it,
but they came with plenty of
attitude and sneering at the lens.
A few refusals to smile and
several, "I won't stand next to him"
incidences.
I even got some full moons
which I will spare you of!
Not that the perpetrator's booties aren't super cute,
but because I might need them for black mail later.


So my day full of Kodak moments

didn't go quite as smoothly as my pipe dream plans,

but my children are ever dedicated to

keeping it real,

and I can't blame them for that!




Perhaps I wouldn't know what to do

if I didn't have to beg and plead for four simultaneous smiles!

So, my children could have actually saved me from

utter euphoria resulting in sudden confusion

and then an onslaught of uncontrolled panic

over where my "real" children were

and who had replaced them with these

dream stepford like models!

So, thanks kids!

That could have been really bad!




We spent much longer at Deception Pass

and Rosario Beach during this trip

than the first one I had taken by myself

with the kids.

We wanted to show David all we had previously seen

and then explore even more with him.






It seems that everywhere we have lived

there is a scene like this.

Except for Georgia.

There is nothing like this anywhere in South Georgia,

but in the middle of a grey, rainy Pacific Northwest winter,

don't think for a minute that we wouldn't all trade this view for

sipping sweet tea and eating BBQ under the Spanish moss of the tall oak trees,

in the mild December temperatures.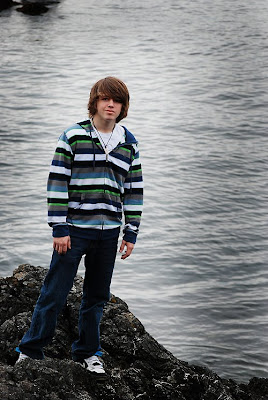 This view here though, it is gorgeous!

Rhode Island had it's cliff walk

with similar rocks and cliffs meeting the Ocean.

California had it's tide pools teaming with life.

We love exploring places like this.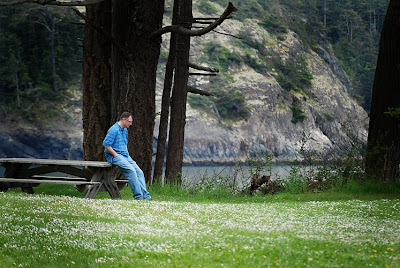 The Pacific Northwest is certainly beautiful!
I mean, Come on!
Just look at the green field dotted with little white flowers
and the backdrop of rocky cliffs
falling into the placid water below!
No matter how much you dislike rain,
you cannot deny the glorious payoff
when the skies clear and you can see
all of the treasures that have been hidden for so long!




I love this shot of everyone stopping for a minute
to rest and take in the view.
We walked to the middle of the Deception Pass bridge
and we continued to be amazed at the beauty that lay before us!
We were able to watch a bald eagle in flight

swooping down, wings spread, talons out,

trying over and over again to catch a fish

in the emerald waters below.
This is something that I had not yet seen close up until then.

It was just awesome!
Being the patriotic girl that I am
and wrapped up in the thrill of seeing our National Bird
and a symbol of liberty and justice for all,
it was all I could do to keep myself from bursting out in
"God Bless America" or "This Land is Your Land"
right then and there!
You will be happy to know that I did refrain,
partly to keep from being pushed over the side
by my kids
and partly because,
well, I just can't sing.
At.
All!
but I was singing on the inside!
And loudly too!


I'm also told that the Orca whales come to rub their bellies
on the rocks at Rosario Beach!

In some places, the rocks are silky smooth because

of the whale visitors and their tummy rubbing.

I can totally understand why.

It's a gorgeous place.

If I were a whale,
this is definitely where I would come

to rub my belly on the rocks.
As a matter of fact,

I had the slight urge to do so while we were there,

and I don't even have a dorsal fin!
Bren loves butter
and wants you all to know it.
I once told her that when I was a little girl
we'd pick butter cups and hold them under our chins.

If they glowed yellow,
then it meant that you loved butter.

She has never forgotten that
and now no butter cup flower escapes her experiment.


My boys, all three of them,
pushed their limits and went on unbeaten paths.
I, on the other hand,
along with my two scaredy cat girls,
pushed the limits of my telephoto lens
from the safety of the very,
very well beaten path for cowards and
scaredy cat girls.



Madison did venture farther than I thought she would,
but soon retreated to my side
where we held our breath watching our men
risk their lives for the right to say they went the farthest!



I call this portrait,
"Three smiles and a sneer".

Or
"Gotcha mom, did you really think it would be that easy?!"



Something about this photo makes me smile.
I love the lighting and composition,
but something about David's expression
just does it for me.
He looks happy and content, doesn't he?



We got lots of "Ewwwwwwwwww's!!!" for this one.
Our kids don't know how lucky they are to have two parents
who are still affectionate with each other after 17 years!




Bren is such a fun little girl and she
enjoyed this day so much!
She was all giggles and smiles for the majority of the day.
Such great memories we are making for her of spending lots of days
running around with her older siblings.
Most likely, she'll be an "only child" at home
in just 6 or 7 short years from now.
Our older birds will leave the nest
before we are out of the Navy,
so only time will tell where God puts each of us geographically
over the next decade.
If I had my way,
I'd build one big compound in a town that we wouldn't have to transfer from
and we'd all be together forever and ever amen.
There I go pipe dreamin' again!
I'm so glad that Bren experiences the fullness of their love for her
right now while they are close enough to give it
to her in person.
She doesn't understand it now,
but these will be some of her most precious memories.



I can't believe that both of our boys
are almost as tall as their father!
Passing me up was nothing.
I feel like I blinked when they were eight and suddenly
I was looking up at them,
but to pass David's 6 feet 1 inches of pure studdliness
will be a milestone for sure!



Aw....a favorite of mine from the day.
I wish I could get someone to take a photo
of me and David sitting together on those rocks
while all four kids are chasing each other down the beach
or wrestling each other in a pile of arms and legs.
That would be a true portrait of our crazy life!
If we could get one or two of them crying while we are at it,
that would round the picture out nicely!
My little Madison is growing up so fast!
She'll be 13 the end of this month!
While she's always been an old soul and
more mature and serious for her age,
I just can't believe she's officially entering the teen years so quickly!
Bren's bucket is now filled with "wishing rocks".
These are black rocks with white stripes all the way around them.
She threw some wishes into the water,
but decided to take some wishes home with her
to save for later.
Three knights in light jackets
and a princess in jeans.
Love it!





And so goes my Mother's Day.
I wouldn't have wanted to spend it any other way.
Thanks kids for a great day full or laughter,
surprises, discovery and
the stuff memories are made of!!
Thanks David for making it all happen!